iStumbler Release 100 GM Candidate 5
---
26 October 2013
Details are available on the
beta page
it includes a number of bug fixes and
enhancements for Mac OS X 10.9
Mavericks
.
iStumbler Release 99
---
16 February 2010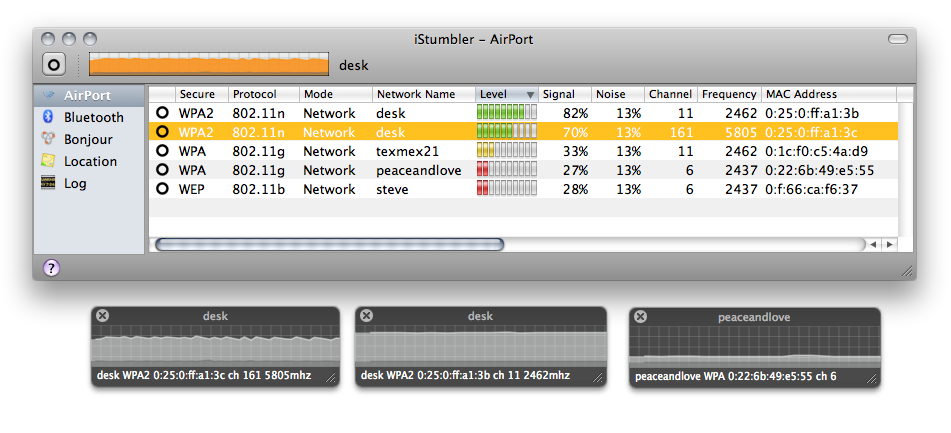 Download iStumbler Release 99
(1.1M) iStumbler Requires Mac OS 10.6.2 (Snow Leopard) or later.
AirPort Plugin Requires AirPort or AirPort Extreme Adapter.
Bluetooth Plugin Requires Bluetooth Adapter.
Notification support requires the Growl Framework.
iStumbler is the leading wireless discovery tool for Mac OS X, providing plugins for finding AirPort networks, Bluetooth devices, Bonjour services and Location information with your Mac.
Release 99 includes a number of bug fixes and enhancements for Mac OS X Snow Leopard.
The Press Release and Change Log have all the details.
iStumbler is available under a BSD Style Open Source License. You can download iStumbler source code (5.1M), modify it freely and submit patches to me for consideration.
iStumbler is brought to you by Alf Watt. Send me an email to suggest new features or to report a bug that's not already on the Bug List.
Prevoius Verions of iStumbler can be found in the archive, of note are major versions coresponding to prevoius major versions of Mac OS X:
Web 2.0 Shanty Town
---